Intro
Happy Thursday, everyone. Today's post features nude photography. In addition to that, we learn more about photographer Sephi Bergerson's philosophy of "One", evolved minds, and how religious beliefs shape our perception of the world. Today, we invite you to catch a glimpse of this surreal collection with the religious motifs enfolding each subject. And what about you? Are you searching for your own divine source?
Sephi Bergerson
Looking for God in a church, synagogue, or mosque is religion. Looking for God inside is spirituality. This is what I believe. And you may be surprised to learn that I was born in a secular Jewish house. Yes, they really exist. And that is what I am referencing when I say that I believe in God, but I do not follow any organised religion.
I feel that religions have historically divided humanity, while spirituality is universal and brings us together. Many people take great comfort in the teachings laid down by the religion they follow. However, in my opinion, religions are all based on half-truths. They also tend to bind followers to a set of core assumptions and dogmatic thinking. And thus, in most cases, do not encourage free thinking.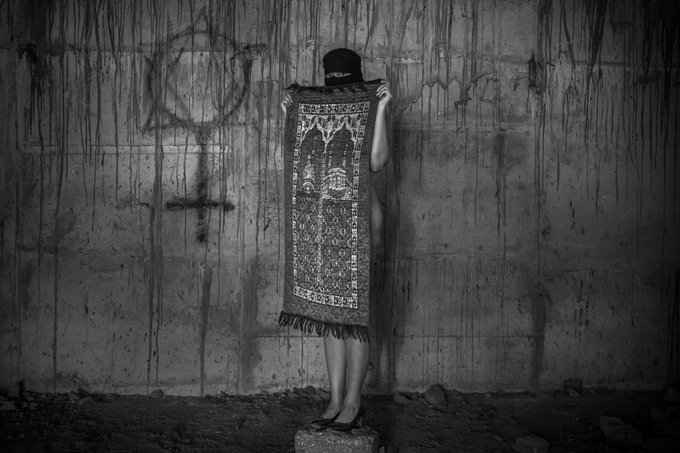 There is one truth. I believe that evolve minds understand this truth even though they call it by many names. What I mean is that we can all speak about the same God. But because of our upbringing and environment, we use different names for the same deity that so many religions speak about. Those who are not restricted by their religion usually agree on this idea.
My work is an exploration of the emotions triggered by various religious symbols. I believe that inspiration is divine grace, and I am searching for a connection to this source of inspiration. I am particularly interested in how people perceive and react to the use of religious items in art and specifically connected with the human body.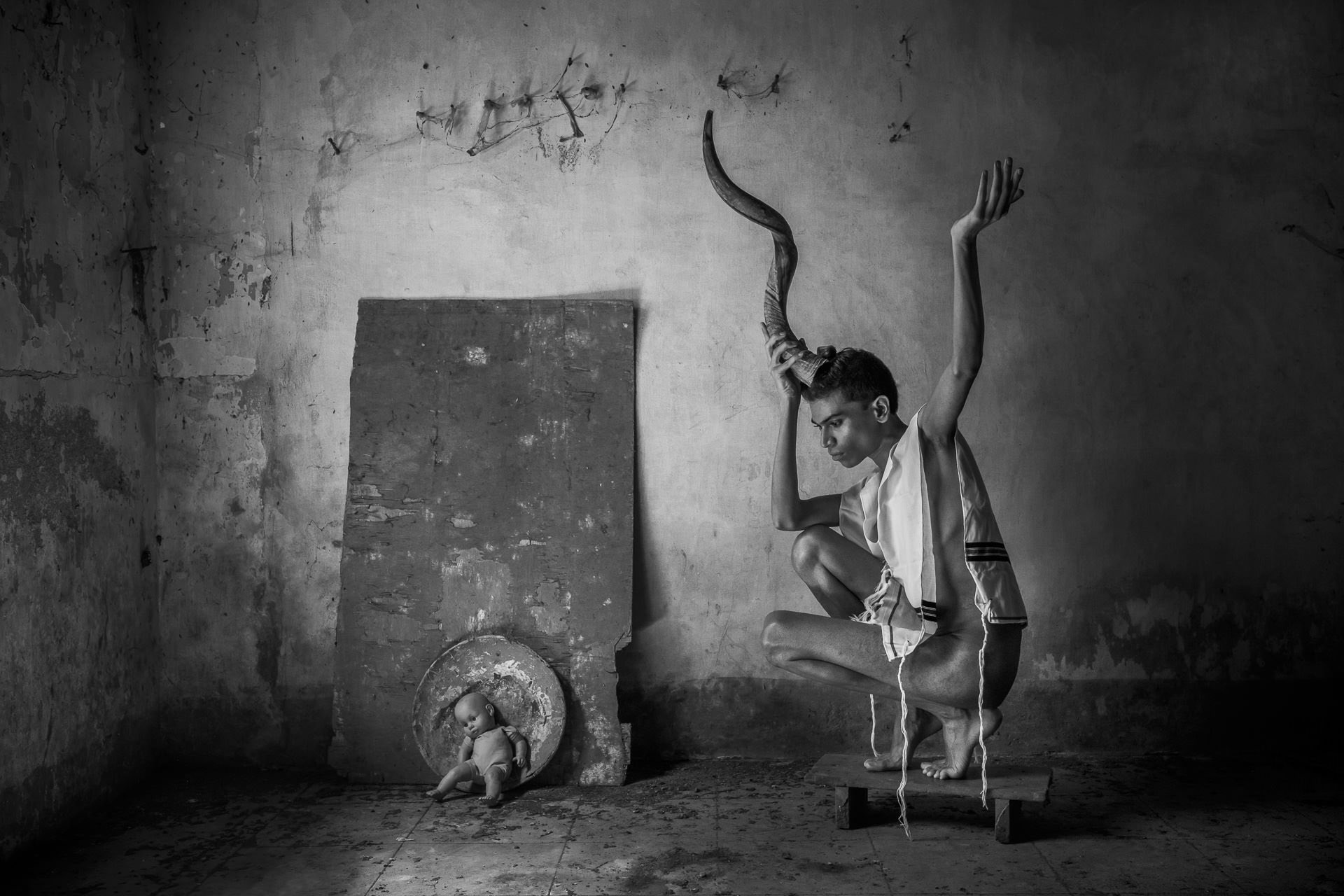 I create photos using religious objects as styling for nude photographs. By doing so, I want to reclaim these worldly objects and alter their original religious purpose to question the attitudes, fears and unwritten rules which have formed religious dogma and people's behaviour within it.
I focus on the three most influential monotheistic religions, Judaism, Christianity, and Islam, as they were all born in the Middle East and are all inextricably linked to one another. Christianity was born within the Jewish tradition, and Islam developed from Christianity and Judaism. Growing up in Israel, I was surrounded by the monuments and realities of these three religions that formed the background of my upbringing and my visual language.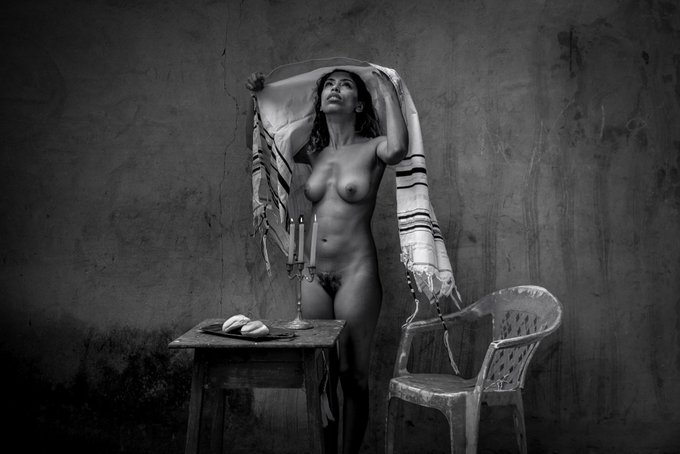 I am aware of the controversial side of this body of work. Some people might find my work offensive to their religious beliefs, and voice their protest accordingly. I would like to have a conversation about God and inspiration, but I know this subject brings out a lot of emotions. I have not experienced any violence with regard to this project, but a few people on twitter did say they find it offensive. I expect more of this once the project gets more exposure.
For example, we have also witnessed violence against artists who chose to depict religious items or subjects in their work. It is not uncommon that museums and galleries are forced to take a stand or forced to remove controversial work from their exhibition walls due to public outcry. There will always be those who oppose these ideas and rush to the defence of religion like white blood cells rushing to fight a virus.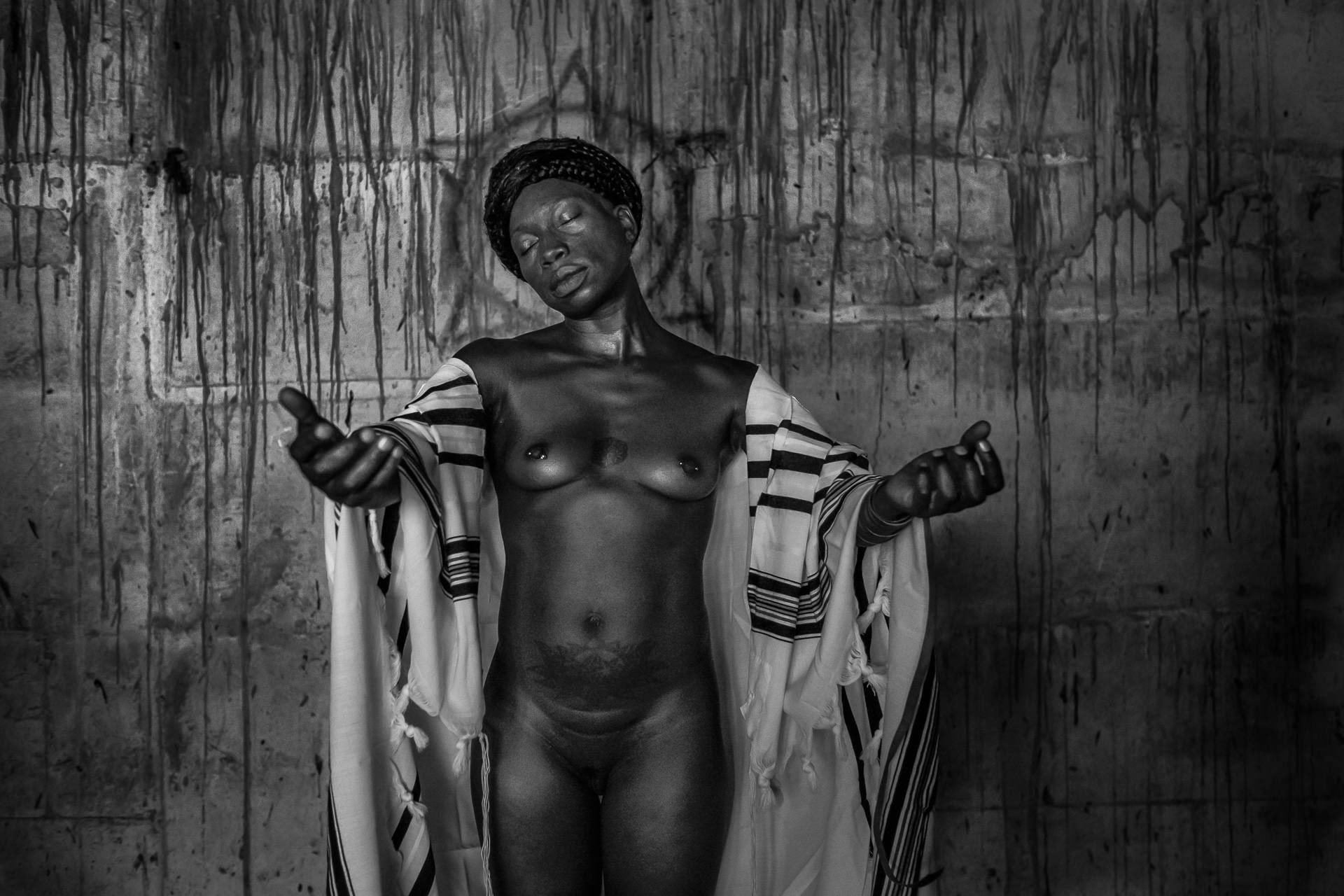 I feel that God is everywhere, and the one I believe in does not require any protection, yet I think there is a high chance that gallery owners or museum curators would think twice before showing this work. This is why I believe that virtual galleries, cryptocurrencies, and non-fungible tokens are a good fit for this work.
Outro
Thank you for reading. Sephi Bergerson is an award-winning documentary and corporate photographer, and author. Follow him on Twitter. And of course, you can find the full range of his photography work on Instagram. After living in Tel Aviv, Jerusalem, New York City, San Francisco, Paris and New Delhi, Sephi set down roots with his wife and children in Goa, India, in 2002. After moving to India, he started taking documentary assignments for corporate clients, international NGOs, and print publications.
Visit his website, Sephi Bergerson, and view all the photographs in this project, The Truth is One. Purchase items from this collection as non-fungible tokens on Foundation.
This photography project has won the following awards:
Budapest International Foto Awards 2021: SILVER In Fine Art/ Nudes
Tokyo International Foto Awards 2020: Silver In Fine Art/Nudes
Tokyo International Foto Awards 2020: Silver In Portfolio/Fine Art
One Eye Land Photography Awards 2018 – Silver Award
11th Annual Black & White SPIDER Awards 2017 – Nominee
IPA ~ International Photography Awards 2016 – Honourable Mention
10th Annual Black & White SPIDER Awards 2016 Honourable Mention