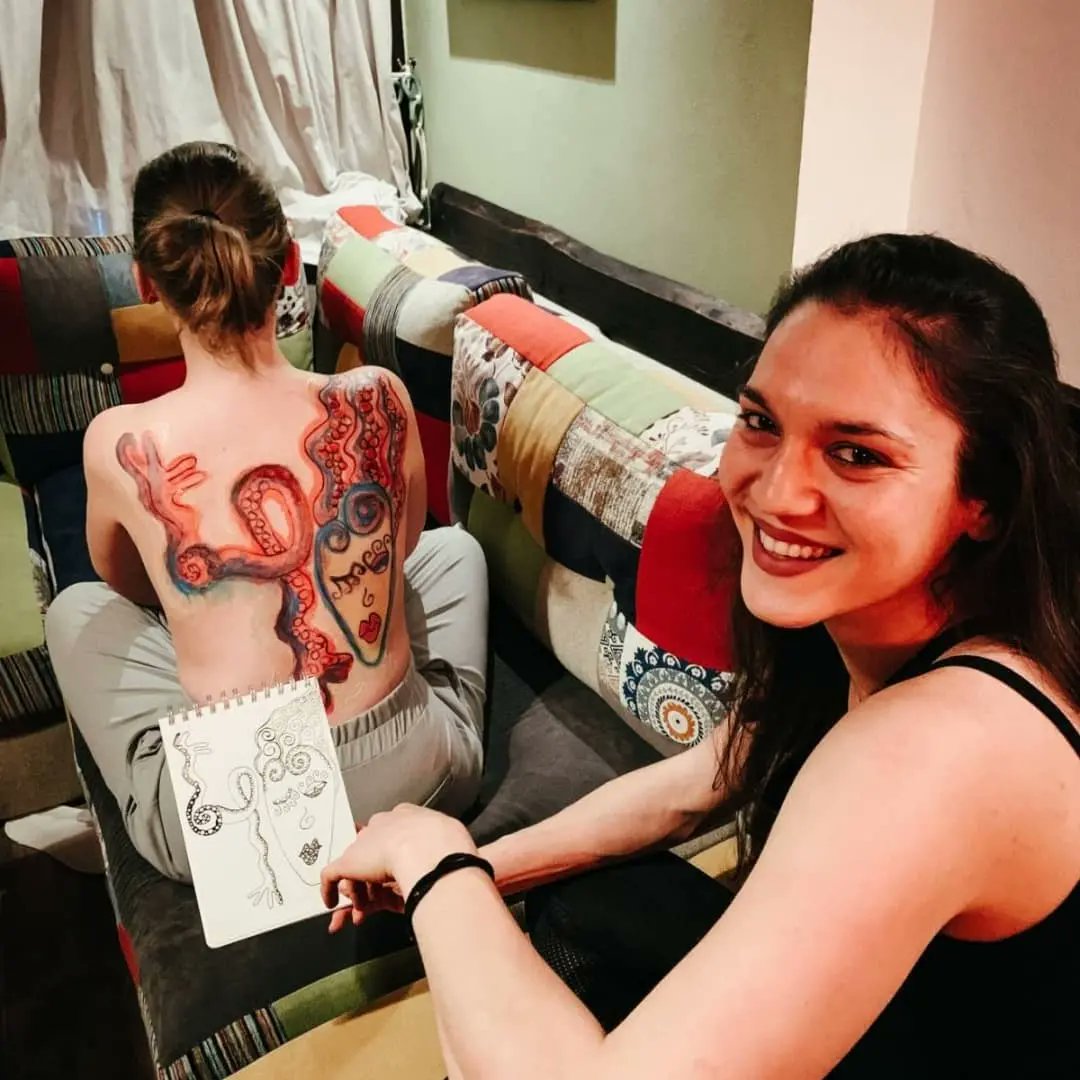 Not every artist's origin story begins with the artist falling unconscious to the floor. But mine does. My name is Sophie. I am a Bulgarian mixed media abstract artist, TEDx speaker, and mental health advocate. Until I turned 32, I was an artist in denial. And I say that because I never had the courage to admit that I wanted to make art.
After a very challenging period in my life, creating art helped me sculpt a new self-identity. I was also able to redesign my reality. The process saved me, and every day, I share my story with others to help them find their true calling.
I call myself Octophina because I've always felt like a human octopus, who like a real octopus, has at least three hearts and nine brains. Art helps me to use my "bugs" as features. This way of thinking enables me to see every challenge as an opportunity to grow. My path to becoming an artist was an unexpected journey of healing through inner exploration.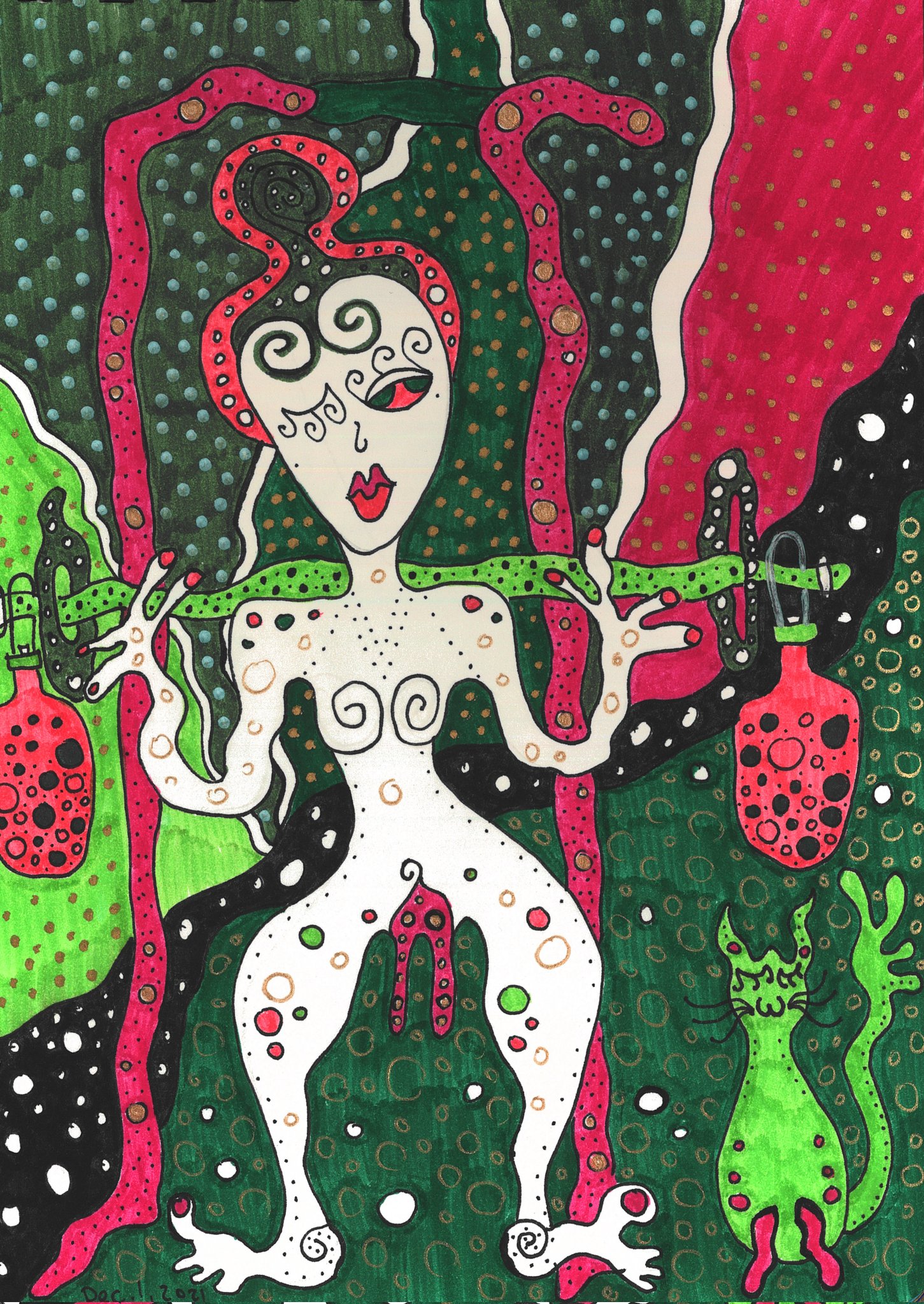 If my life had a prequel, it would be my corporate background as a trained journalist specialising in graphic design, PR, and IT. I was also a prominent international food blogger, a certified Mind Body Eating coach and founder of a social enterprise. And yet, despite everything I achieved, I struggled with depression for over a decade. Navigating the world through this brain has been a weird experience. Today, I capture all of that in my art.
In recent years, after numerous traumatic events, including the pandemic destroying my business and leaving me broke, moving alone to a new country to restart my life at 31, and my mom getting diagnosed with breast cancer, I was emotionally, physically, and psychologically drained.
On May 8, 2021, I fainted in my kitchen and when I woke up, I felt completely apathetic about the projects and initiatives I had been passionate about for years. It was as though my entire identity had been wiped out. Over the next four months, I was trapped in major depression. And it was difficult for me to articulate what I was experiencing internally. I felt terrified.
My therapist encouraged me to start making art to clear my mental cache, improve my emotional metabolism, and practice self-care. Today, almost six months later, we are working on a start-up which will merge psychotherapy, art, and blockchain technology. We started this business to help people improve their mental health and financial well-being.
In celebration of this resurrection of life, presence and hope for the future, I launched a collection of NFTs on Open Sea called Pain to Power. This is a constellation of reflective artwork I created between November and December 2021. The date of the release is January 19, 2022, is the date my mom got her breast cancer diagnosis last year. After almost a year in hell, my mom recovered completely and is doing well. Sharing my transformational healing art with the world on the anniversary of her diagnosis is for me a celebration of resilience, which is what makes the human experience special.
Art has helped me discover my identity outside of social conditioning, peer pressure, and others' expectations. As I create art, I am healing emotional wounds and building a healthy sense of self-worth. I invite you to stay with me on this journey.
Outro
Happy Friday, everyone. Thank you for reading Sophie's story. We are five days away from her genesis drop (first collection of NFT art) on Open Sea. Let us send her our best wishes for the sale of her collection. In the meantime, why don't you go ahead and visit her website, then follow her on Twitter, Instagram, and Medium. She is looking forward to sharing her adventures in art and life with you.